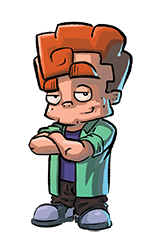 I most enjoy creating illustrations that tell a story. I tailor my approach to each project with its specific audience and the necessary outcomes in mind. The goal is to find new and interesting ways to clearly and simply communicate the idea and emotion. 

My experience over the past 9 years working in Film, Animation and Video Games has made me extremely versatile. I get to the heart of a project and quickly adapt to different teams and environments. I enjoy working with, as well as managing, talented people to create the best possible outcome.

 I have developed work for Google, Coca-Cola, the BBC, Marvel, Assassin's Creed and NBC Universal

My personal work is centred around writing and illustrating comics. My stories have fantastical elements juxtaposed with real-world, relatable situations. 
For example the trailer below is for a graphic novel I wrote about the son of King Kong, living in Manhattan and suffering from "anger issues."
If you came here first, then now is probably a good time to go have a look around. If you've already looked around and want to know what some of my clients think, I've put a few comments below from people that I've worked with in the past.
Keep scrolling and you might even get a sneak peek at some of my stand up.
"We use Andrew regularly for character designs and storyboards and we can always depend on him exceeding our expectations in an amazingly short space of time.
Given the vaguest briefs he will understand exactly what we're asking him to do and his designs and ability to use images as storytelling tools enable us to really streamline the production process from there, saving us time and money in the long run.
We would highly recommend Andrew to anybody looking for characterful designs, effective and thoughtful storyboards and concept images. Having used many other artists before I would have to say that Andrew is the most reliable and produces work of the most consistently high standard on a quick turnaround." 
Mike Richter, Director at Engine House
"Working with Andrew was both very easy and very fast. His style and energy within the boards helped a great deal to visualise the script."
Kelly Jones - Stereophonics
"Andy has been a fantastic Concept artist and Texture artist. Not only did he come in and design beautiful environments and characters in an already existing style, but also expanded and brought his own creativity to the project.
His knowledge of designing for a 3d environment was great, and as a texture artist was also able to quickly get to grips with Maya, Cinema 4D and Unity to view his textures in 3d and in-game.
He is a pleasure to be around, and his strong work ethic and aesthetic nouse makes him a valuable asset to any team. I look forward to working with him again!"
Jon Botros - 3D Artist at Sony Music Entertainment
"Andrew's one of those Illustrators you can always rely on to deliver to the brief, to the right standard...plus a bit more.
If you're looking for an illustrator who's creative, great at what they do, keeps you informed, delivers what you want, meets the deadline and turns out great work; Andrews probably the one you're looking for."
Phil Banks - Head of Design at Mind Gym
" I would highly recommend Andrew as a great addition to any creative team. Whilst working with us at Sony he demonstrated a huge amount of talent, speed and a great ability to understand project briefs. Aside from his creative talents, Andrew is a really personable member of a team and I wouldn't hesitate to recommend him."
Oliver Wright - Graphic Design Manager at Sony Computer Entertainment
"If you want someone who can work to a tough deadline, deliver the goods on time and maintain his artistic integrity and quality; Andrew is your man.
He has helped Create on a number of pitches for TV and multi-platform conceptual ideas. Andrew gets it quickly and somehow delivers the picture of exactly what you were thinking - every time.
He is hugely versatile, works well under pressure and maintains his calm, very nice guy attitude even when everyone around him is running around like headless chickens. Highly recommended!"
Corin West - Account Manager at Create
"We put him under very tight timelines which he dealt with. He was very good at giving updates (both face to face and via email when he didn't work in the office). He was extremely flexible and able to deal with numerous revisions. We would definitely recommend him to others and would use him again."
Helen Turner - Graphic Designer, (Chandler Chicco Agency)
And if you STILL want to see more, here's a video of me on stage at my second stand up performance. Enjoy!